Preparedness Challenge Week 19
The preparedness challenge this week is to add canned meat to your food supply. Meat will make your menus more palatable and much more like the food most people are used to eating. Even the addition of small amounts of animal protein to vegetable proteins raises the protein quality of your diet.
Why is Canned Meat a Good Option for Your Food Storage?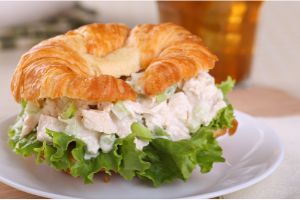 Many types of canned meat are surprisingly tasty and very versatile. Canned chicken, for example, can be used in salads, soups, pasta dishes, and casseroles.
Canned meats are familiar to most diets and are a nutritious choice, especially when fresh foods aren't available. You can choose from a wide variety of canned meat, poultry, and fish—any meat that is preserved in a can, jar, or retort pouch. They can be eaten without heating (although not always ideal) and no water is necessary to prepare them. Containers are small and easy to share, trade, or transport.
How Much Meat Should You Add to Your Food Storage?
To keep it simple, add four to six cans of meat per family member. Four to six cans will be enough for ten to twenty servings, depending on the size of the can. As always, increase or decrease the amount to suit your family's needs.
What Kinds of Meat Are Best for Food Storage?
Which canned meats does your family already eat? Which familiar recipes can be made with canned meats? Look for the canned meats your family likes and is used to.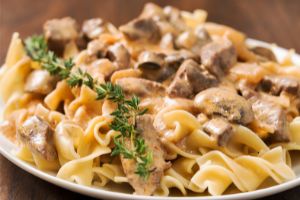 Chicken, turkey, and beef chunks are a good starting place because they offer a lot of recipe possibilities. As an example, a 12-ounce can of beef chunks along with rice or noodles makes a quick meal for 4 to 6 people.
Add seafood like tuna, salmon, chopped clams, and canned shrimp for more variety. Don't forget Spam and corned beef if your family enjoys them.
CANNED BEEF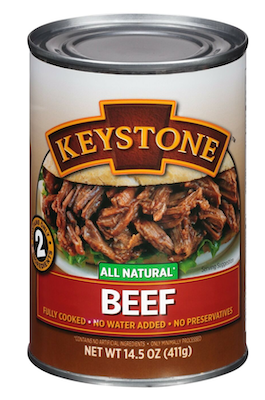 Canned beef is a good option for your food storage. Be sure to check the labels so you know what you are buying. If you simply want beef, check the label to be sure it lists only beef along with salt or beef broth. Canned beef makes its own broth and does not need added modified corn starch or any other added ingredients.
If you are interested in a canned beef product that comes in its own gravy, look for labels that say beef with gravy or have a food starch listed in the ingredients. The price may be less, but there's a good chance you will not be getting as much meat as the picture on the label suggests.
CANNED CHICKEN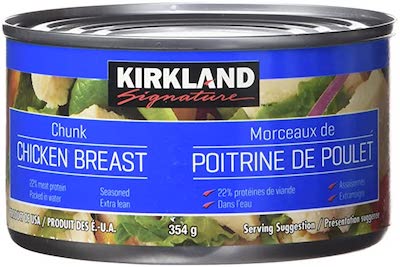 Canned chicken breast is a great option for food storage because it is so versatile. A high-quality brand of canned chicken will be tender and moist and taste like, well, chicken. It may contain broth and a small amount of modified corn starch along with salt. Canned chicken comes in a variety of sizes—5-ounce, 12.5-ounce,14.5-ounce, and 28-ounce.
Not all brands are created equal, so it's worth trying out several brands to find the one you like best. You may be interested in checking out a couple of non-traditional brands—two Amish brands—Lehman's, Walnut Creek Foods, and Yoder's, also Keystone Meats, a family-owned, small-batch canning company.
TUNA FISH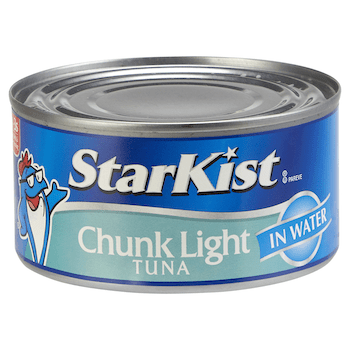 After fresh salmon and shrimp, canned tuna is the third most popular seafood. Tuna is canned as solid white albacore or chunk light tuna. About thirty percent of canned tuna is albacore tuna, the largest tuna species. It is firm and mild-flavored and usually packed in large pieces. Chunk light tuna is made from smaller tuna varieties, usually skipjack tuna. It has a softer texture and is flakier, darker in color, and stronger flavored than white tuna.
Tuna is rich in protein, essential vitamins and minerals, and omega-3 fatty acids. As the top of the food chain, tuna, especially albacore, contains mercury and is not recommended for pregnant or nursing mothers or infants. Check the labels to assure that the tuna is responsibly harvested—many companies are committed to sustainability.
CANNED SALMON
Canned salmon typically comes from pink salmon, also called humpback or humpies, and red salmon, also called sockeye salmon. Pink salmon is more common and has a milder taste. Red salmon get their deeper color from eating krill and have a deeper flavor. Both are nutritious choices.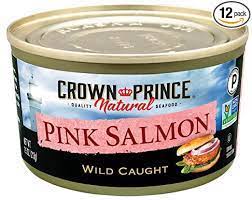 Traditional pack salmon is a salmon steak, including the skin and bones, pressure cooked in a can. It is not a bad thing that the skin and bones are included. The fat beneath the skin is super nutritious and the bones add a good source of calcium.
Most canned salmon is wild caught Pacific or Alaskan salmon. Check the labels to be sure of what you are buying. Nothing should be added to canned salmon except a little salt. There are quite a few national brands to choose from, many take care to harvest sustainably and deliver a good product. Wild Planet is a family owned salmon and tuna cannery that focuses on quality products and sustainability. Their tuna and salmon receive high ratings in independent reviews, although you will probably pay more for them. Try several brands and decide which brand you like best.
CANNED CLAMS, SHRIMP, AND OYSTERS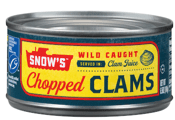 Although canned clams, shrimp, and oysters may not be staples, they are worth adding to your storage. They add variety and interest to a survival diet. Look for and try out recipes that use these delicious seafoods.
SPAM AND CORNED BEEF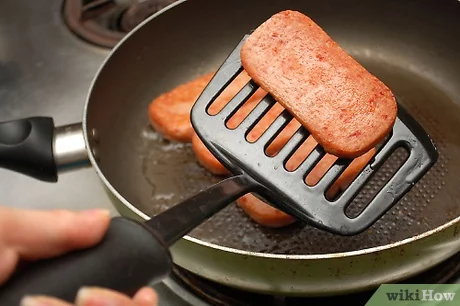 Although not very glamorous, Spam is loved by many as a classic lunch meat and is used in countless ways in a wide variety of recipes. It has been around since 1937, and it is made simply from ground pork shoulder and pork ham—no other "mystery" meats. It also has potato starch to hold the ground meat together, plus salt, sugar, and sodium nitrate to preserve the meat.
Home Can Your Own Meat, Poultry, and Fish!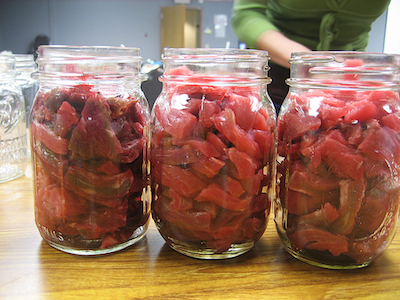 Home-canned foods are often superior in quality to purchased canned foods. You control the quality of the product to be canned as well as the preparation. It's a great way to preserve meat you harvest or purchase on sale. Pressure canning tougher cuts of meat like rump roast or eye of round makes them tender and ready to use right out of the jar.
You can safely can beef, pork, poultry, game, fish, and seafood at home. Combinations like stews, soups, and chili may also be canned.
Canning at home is completely safe if the directions followed are from a reliable source, such as the USDA Complete Guide to Home Canning or a current extension guide.
You will need a pressure canner, glass jars, and jar rings and lids. Pressure canning is required for all low-acid vegetables and meat. This is because the high temperature for killing dangerous bacteria found in low-acid foods can be attained only under pressure.
What is the Shelf Life of Canned Meat?
Canned meats, poultry, and fish have an optimal shelf life of three to five-plus years if stored in a cool, dry, and clean place. In practice, canned meats can be stored twice as long as long as the cans aren't compromised. If the can is intact, the contents will be safe to eat. I have been surprised by how long some of our canned meats have lasted and still maintained their quality.
The seals on lids with flip-top openings may be more susceptible to failing than regular can lids. Many meats are packaged with flip-top openings, so if they are your preferred choice, be sure to use them in your food rotation and don't plan to store them past their expiration date.
RETORT POUCHES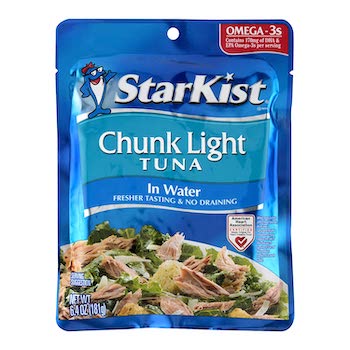 Some meat and fish is preserved in retort packages. They are light weight and convenient. You should expect the shelf life to be similar to a can's. Store report packages in an additional container to protect from puncture.
Think of Canned Meats as Food Insurance
It is inevitable that most of us will end up with food in our storage that we don't use. Canned goods may be part of this dilemma. Most of you probably prefer fresh or frozen foods over canned ones, and so canned foods become a kind of insurance—something you have in case you need it.
Ideally, it's best to work out a system where you learn which canned goods fit your menu style, and use those canned foods as much as possible. You might want to periodically inventory your existing food storage and remove those items nearing expiration and donate them to a food bank.
Advantages to Canned Meats
Good variety
Widely available
Moderately priced
Durable packaging
Ready to use
Cooking not necessary
Familiar in regular diet
Moderately long shelf life
Disadvantages to Canned Meats
Heavy
May contain excessive sodium
May contain unwanted additives
Susceptible to freezing
Cans susceptible to rusting
Cans are vulnerable to breaking
Learn More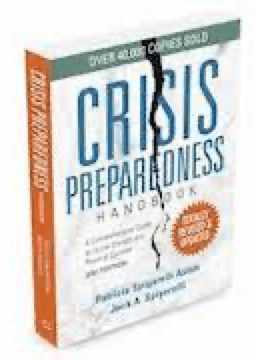 Find out more about storing and preserving foods in Crisis Preparedness Handbook, Third Edition (2020). If you don't already have a copy, you can find it here on my website CrisisPreparedness.com. Or, read it on Amazon in the Kindle version or hard copy version.