Preparedness Challenge Week 4
Welcome to the fourth Preparedness Challenge blog post for 2022. This week's preparedness challenge is to add beans to your food storage.
Give Beans the Respect They Deserve
Not very glamorous and often underrated, beans are one of the most important survival foods. Beans, along with lentils and dried peas, are the richest source of vegetable protein and are an important complement to grains.
Should You Choose Canned Beans or Dry Beans?
You might be wondering if you should purchase canned beans or dry beans. Here are some tips to help you decide:
REASONS TO STORE CANNED BEANS
Canned beans are ideal if convenience is important to you.
Canned beans are nourishing, ready-to-eat food–all you need is a can opener (or pop tops).
Cans are small and portable, easy to transport.
Canned beans are cooked so they are consistently firm.
REASONS TO STORE DRY BEAN
There are many varieties of dry beans to choose from.
Properly cooked, dry beans are more flavorful than store-bought beans.
Dry beans are less than one-third the cost of canned beans.
Dry beans have a much longer shelf life than canned beans if stored correctly.
By varying the cooking time, you can control the firmness of cooked beans.
How Many Pounds of Beans Should You Store?
One pound of dry beans measures two cups and will make six one-cup servings of cooked beans.
Five pounds of beans are equivalent to thirty servings, enough for one serving a day for a month.
There are about 1¾ cups of beans in a can.
You would need three to four cans of beans to equal one pound of dry beans.
To get started, store five pounds of dry beans per person. For convenience you may also want to store canned beans—begin with six to eight cans per person. Label beans with the date purchased. As you use beans, note how quickly you are using them. Adjust the amount of beans you keep in your storage and replenish your supply when you have used half of them. Increase the amount of beans you store if you want to have beans for a longer length of time.
What is the Best Way to Store Beans?
CANNED BEANS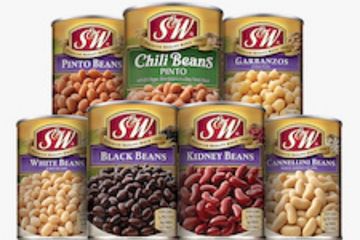 Store canned beans in a cool, dark, and dry location. Label cans with the purchase date. Although the recommended shelf life is about two years, if properly stored in a cool place, they can last longer.
DRY BEANS
There are many varieties of dry beans to choose from. Typically, beans are dried to about 16% moisture. Ideally, they should be stored so they maintain that level of moisture. Dry beans left in their plastic bags only have a shelf life of about one year. Left in their plastic bags they will continue to dehydrate, lose quality, and eventually be so dry they will be unable to absorb moisture.
To maintain quality and increase their shelf life, store beans in airtight containers both on your pantry shelves and in long term storage.
Tips for Choosing Storage Containers for Your Pantry
WHAT TO LOOK FOR IN PANTRY FOOD STORAGE CONTAINERS
Look for containers with airtight silicone seals.
Choose clear containers so you can easily see the contents.
Select containers that hold twelve to sixteen cups.
A twelve-cup (three-quart) container will hold five pounds of beans.
Be sure they fit your pantry shelves.
One option is the Rubbermaid Brilliance Airtight Food Storage Container.
Tips for Storing Beans for Long Term
If you have a food storage room or food storage area away from your kitchen pantry, you will probably want to store larger quantities of beans. You have several storage options.
FOOD STORAGE BUCKETS AND MYLAR BAGS
One way to store beans for long term is in sealed, air-tight food storage buckets. The optimum shelf life is three to five years with quality declining after that. To increase shelf life, store beans in Mylar bags with oxygen absorbers within the large storage buckets. This will increase the shelf life to eight to ten years. Storing beans in a cool location can increase shelf life further.
WHAT TO LOOK FOR IN A FOOD STORAGE BUCKET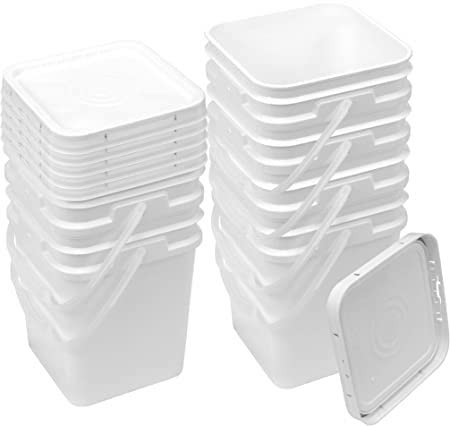 Look for rigid, BPA-free, food-grade containers.
Choose a size that holds four to six gallons.
Round buckets come in five- and six-gallon sizes.
Square buckets come in a four-gallon size and make efficient use of space.
Your first option is to choose food storage buckets with tight fitting lids.
You will need a rubber mallet for closing the lid and a bung wrench lid lifter tool for opening the lid.
Your second option is to choose food storage buckets with screw on gamma seals.
Gamma lids come in white and also in assorted colors that can help quickly distinguish different types of food.
OPTION 2-MYLAR BAGS AND #10 CANS
Dry beans can also be purchased and stored in #10 cans. They have a functional shelf-life of up to thirty years. These cans can be purchased from food storage companies. The Home Storage Centers of the Church of Jesus Christ of Latter Day Saints also sell a few varieties of beans in #10 cans.
Tips for Cooking Beans
BENEFITS OF SOAKING BEANS
Don't let cooking dry beans intimidate you. If dried beans are prepared well, they are delicious and taste better than canned beans. One important tip is to begin soaking beans the night before you want to cook them. Beans can be soaked up to 24 hours. Although some may say that it is not necessary to soak beans, there are many benefits from soaking them, especially if beans are older.
Beans cook more quickly and evenly.
Beans have a smoother, creamier texture.
Soaking reduces gas-causing sugars and makes beans easier to digest.
Soaking helps make nutrients in beans easier for your body to absorb.
Soaking removes dirt, pesticides, and other contaminants.
SIMMER BEANS AT A LOW TEMPERATURE
Simmer beans at a low temperature to keep their skins from splitting. I usually use a slow cooker to cook beans because I can start them in the morning and forget about them until it's time for dinner. Beans can also be cooked in a stock pot on the stove top or in a casserole in the oven. My daughters and daughters-in-law love their Instant Pots and how quickly they can cook up a pot of beans.
ADUST COOKING TIME DEPENDING ON HOW YOU PLAN TO USE THE BEANS
Adjust the cooking time of beans based on what you will be using them for. For example, cook for less time if you want firm beans for salad and cook longer if you want soft beans for soups and even longer if you are planning to purée the beans.
BASIC COOKING METHOD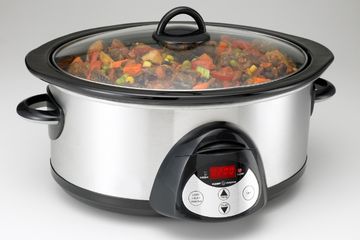 This is my go-to method for cooking all kinds of beans, but especially pintos, black beans, and garbanzos.
Step 1—Sort through and rinse four cups of dry beans.
Step 2—Soak beans overnight in enough water that they stay submerged.
Step 3—Drain and rinse, then place beans in a slow cooker and cover with an inch of water.
Step 4—Add a large onion, peeled and cut in half, four to six peeled garlic cloves, a tablespoonful of red pepper flakes, and salt to taste.
Step 5—Cook beans on low temperature until they are tender, about six to eight hours.
Discover Your Bean Personality!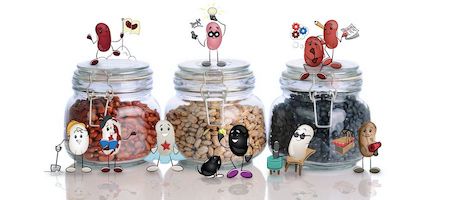 While researching for this blog I came across this fun quiz from The Bean Institute. Try it and find out your "bean personality." You will also find some delicious bean recipes on this website.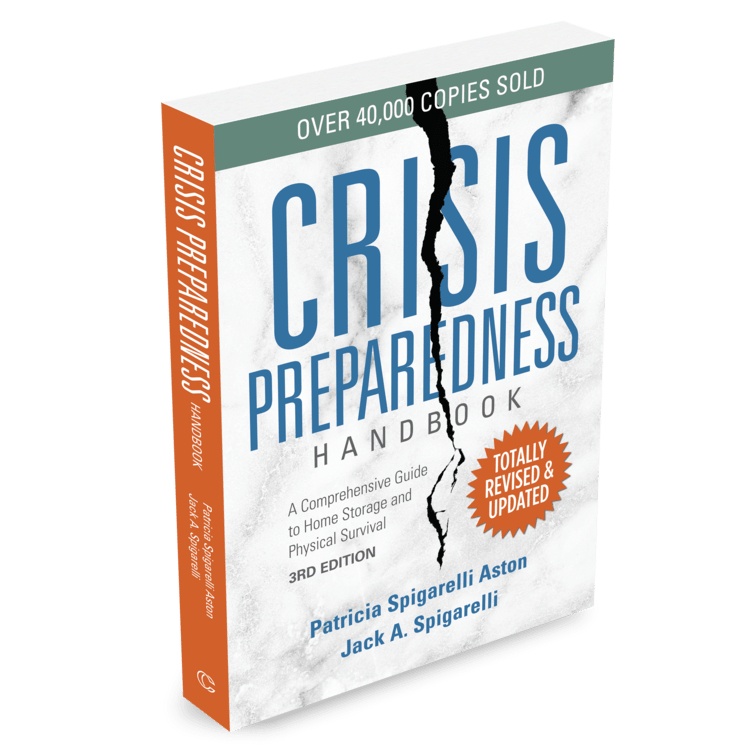 Find more tips for storing beans, other food storage foods, and all areas of preparedness in my book "Crisis Preparedness Handbook, Third Edition."
If you don't already have a copy, find it on my website CrisisPreparedness.com. Or, get it on Amazon.
You'll see links on this site associated to various products, services, etc. Assume any link you see on this site is an affiliate link, which means if you click on it, CrisisPreparedness.com may receive compensation.