Preparedness Challenge Week 20
Clean water is extremely important! A lot of times there is water available, but it's not safe to drink. You should assume that your water is contaminated if the culinary water system has been compromised. Boiling is recommended, but it's only an option if you have a way to heat it along with needed fuel. For that reason, you need redundant systems—multiple ways to obtain clean water.
This blog article will describe three methods for obtaining pure water. The challenge this week is to choose one method as a back-up water purification method. Next week's challenge will feature other methods for purifying water.
Selecting Water to Purify
WATER SELECTION
As you select water to purify, begin by making every effort to select a water source that is free from sewage. Use groundwater (an underground source) if possible. If you are forced to use surface water, use running water found in streams and canals. Avoid sources containing unknown floating material or that have a dark color or odor.
STRAINING
Before treating water, remove any suspended particles by allowing them to settle to the bottom of a container. Then strain the clarified water through several layers of coffee filters, paper towels, or a clean porous cloth. Repeat straining if necessary.
Method 1—Water Filtration
After boiling, the next best thing for getting clean water is a water filter. There are a lot of good water filters to choose from—many can be used for recreational or international travel as well. One nice thing about water filters is that they remove impurities rather than just killing them.
Tips for Choosing a Water Filter
Does it remove bacteria and protozoa?
Do you need one that removes viruses?
Does it improve taste and odor?
How easy is it to use?
Does it have an adequate flow?
Does it filter quickly enough?
Does it pump, squeeze, or use gravity?
Can the filter be cleaned and reused or replaced inexpensively?
Are the components sturdy?
What is its cost versus value?
Personal Water Filters
Personal water filters are small and portable and intended to be used by one individual. Although they are often designed for recreational or international use, they are also ideal for emergency preparedness and emergency-evacuation kits. They are available as straws, squeeze tubes, bottles, and compact filters.
Since they are often point-of-use filters, it is important to take precautions against contaminating the filter parts that hold the clean water or that go in your mouth. Consider getting a personal filter for each person in the family who is old enough to understand how to keep from contaminating the filter.
WATERBASICS RED LINE FILTER BOTTLE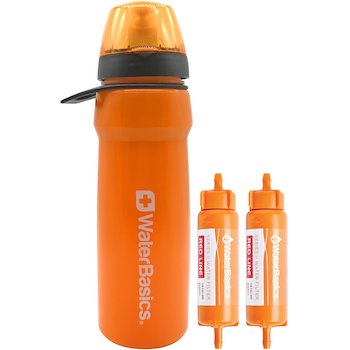 One personal water filter that is economical and effective is the Aqua Mira WaterBasics Red Line Filter Bottle. It is certified to remove viruses, bacteria, and parasites to EPA standards and will filter 120 gallons of water—about 750 filtering sessions. It also reduces bad tastes and odors and bio toxins, chemicals, and chlorine. It has a secure lid that keeps the bite valve clean and sells for less than $50.
An acquaintance has used his all over the world to filter every conceivable kind of water. It sells for a discounted price of $32.20 plus $3.00 shipping on the Church of Jesus Christ of Latter-Day Saints Online Store.
Group Water Filters
You should have at least one small-group portable filter and preferably a backup unit. The advantage to this type of filter is that you can collects water to use for drinking, baby formula, reconstituting dehydrated food, and cooking.
Many of the filters in this category are designed for recreational use, and there are quite a few excellent filters available. They may use a pump-action system or be gravity-fed, and sometimes both. Be sure to also have backup replacement filter cartridges if needed.
OUTBACK PLUS 4-STAGE EMERGENCY GRAVITY WATER FILTER SYSTEM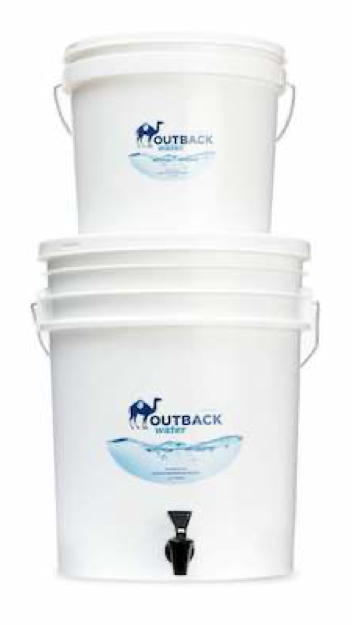 One filter designed specifically for disaster preparedness and survival is the Outback Plus 4-Stage Emergency Gravity Water Filter System. It is a no-nonsense, gravity-fed filtering system that is simple, reliable, and effective. It is used internationally to clean water in developing countries.
Method 2—UV Radiation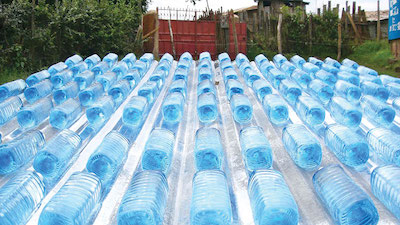 Sometimes referred to as SODIS (solar water disinfection), sunlight UV-A can be used to disinfect water. Use a clear plastic bottle, preferably PET plastic, such as a typical soda or water bottle, no bigger than two liters so the UV rays can penetrate it. Place the bottle in direct sunlight for at least six hours. Cloudy water cuts down UV effectiveness because UV rays cannot kill viruses or bacteria hidden behind particles. Sunlight can kill many potential disease-causing organisms but will not purify chemical contamination.
STERIPEN CLASSIC 3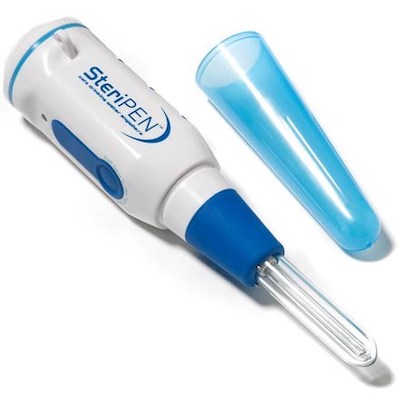 The SteriPEN Classic 3 is a portable, hand-held UV water purifier that can be used to purify water in emergencies. It will purify a quart of clear water in 90 seconds. It requires one set of four AA batteries. One UV lamp will provide 8,000 treatments. It is an effective water treatment for camping and international travel.
UV LIGHT BOTTLES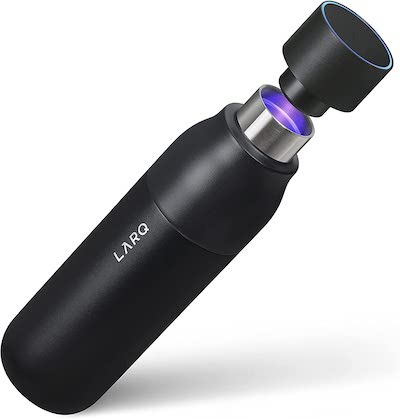 UV water bottles are one more option for making sure you have pure water to drink in an emergency. The nice thing about UV water bottles is that they are designed for everyday use and will make having pure water during an emergency that much easier.
UV light bottles have caps that are equipped with a UV-C light. When activated, the UV-C light disperses UV light rays to purify the water and keep the water bottle fresh. There are several brands to choose from.
The bottles usually have two cycles, a short cycle for daily use that cleans relatively pure water and prevents bacteria build-up. A second longer cycle can be used for questionable water such as water found in the back-country or when traveling internationally. The bottles also self-clean. They require charging and comes with a USB cord or use regular batteries.
Method 3—OZONE
Ozone is a powerful oxidant that is used in many places in the world in water treatment plants to purify municipal drinking water. It is also used by water bottlers worldwide. Ozone filters can be connected to the home water system or attached to a faucet to treat water directly.
ROVING BLUE O-PEN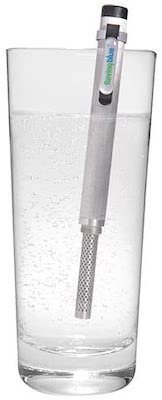 The Roving Blue O-Pen is a personal pocket ozone water purifier that is placed in a container of water, where it creates ozone, which effectively kills viruses, bacteria, and protozoa. It uses a rechargeable with a USB cable. Like the SteriPen, it is also an effective water treatment for camping and international travel.
Learn More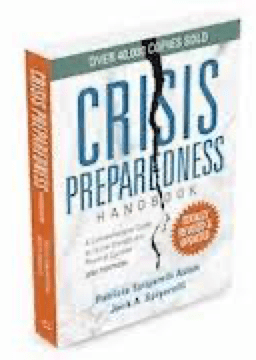 Find out about more methods for purifying water in an emergency—as well as tips for storing and filtering water in my book Crisis Preparedness Handbook, Third Edition (2020). Also learn about all aspects of preparedness. You will get valuable checklists, quick-start ideas, worksheets, and personal tips to make it easy. If you don't already have a copy, you can find it here on my website CrisisPreparedness.com. Or, read it on Amazon in the Kindle version or hard copy version.