Preparedness Challenge Week 24
Clearly, among other things, we have a fuel crisis in June 2022, and you are probably frustrated paying so much for fuel right now. Higher prices may signal that a fuel shortage is coming. How can you protect yourself if there is a fuel shortage and it's hard to get fuel. There are a couple of things you can do.
Keep Your Gas Tanks at Least Half Full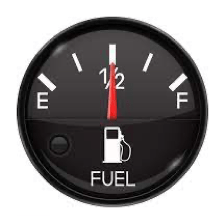 Make a habit of keeping your gas tank at least half full. When the gauge starts getting close to the half way mark, start planning your next fuel purchase.
It is a simple thing and will give you peace of mind.
Store Extra Fuel
Store extra fuel. If possible, and your situation allows it, store enough fuel to fill your primarily vehicle—roughly four five-gallon containers. If you have a generator, also store enough fuel to fill it at least once.
What Size Fuel Can Should You Store?
Smaller one-gallon or 2.5-gallon gas cans are good sizes for gas cans that are used to fill small engines like lawn mowers and weed-whackers. But, for most people, five-gallon fuel cans are a better solution for storing emergency gasoline or diesel. This size is easy to store and small enough to carry, yet still holds enough fuel for a short-term emergency.
Should You Use Plastic or Metal Fuel Containers?
Gasoline and diesel storage containers may be plastic or metal. Plastic containers are light weight and less expensive but are not durable for long-term storage. The plastic may leach into the fuel and degrade it over time and the seams eventually fail.
Metal containers are the best option for long-term storage. They are extremely durable, although they are heavier and more expensive than plastic. They are susceptible to rusting if the powder coating fails. Look for quality containers with welded seams.
What Features Are Important in a Fuel Container?
Gasoline and diesel cans today come equipped with safety features to comply with EPA and OSHA regulations, and many comply with CARB (California Air Resources Board). Some of these features interfere with operation and make them difficult to use without spilling. Some designs are better than others. Look for these features in better designed containers.
Easy-to-fill cans
No-spill mechanisms
Cap gasket to minimize leaking
Spring-closing lid to prevent spills
Control over fuel flow during filling
Auto-stop feature to prevent overflowing
Fast rate of flow (3 minutes per gallon is good)
Rotating, integrated nozzle
Built in funnel or lock on spout
A mechanism to safely relieve internal pressure
Rear handle to assist in filling
Be sure to check that the nozzle fits your particular vehicle.
What Are the Best Gasoline Storage Containers
The following gas cans have many of the features that are desirable for a good fuel can for storing gasoline or diesel. They have thoughtful features and are recommended by multiple sources.
Plastic Containers
We have both of these brands of gas containers and they work well. They are highly rated plastic containers.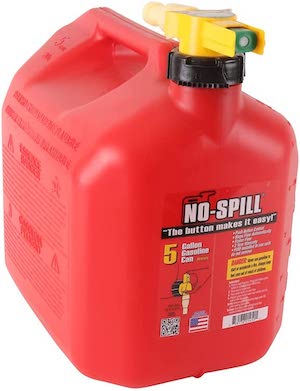 Metal Containers
I recommend you take a look at these cans. Justrite and Eagle are made by the same company. Wavian Jerry cans are military style and can be attached to a frame on the outside of a truck or SUV. Get more information about these containers on Amazon or their company websites.
Justrite Safety Can (see below)
Eagle Safety Can
Wavian Jerry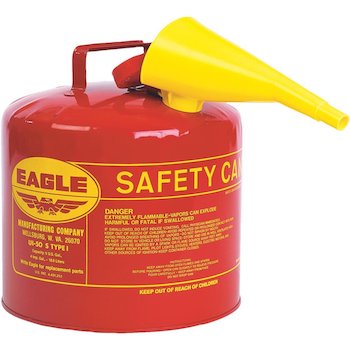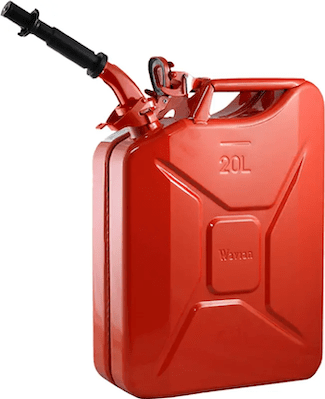 What Do the Different Colors of Fuel Cans Signify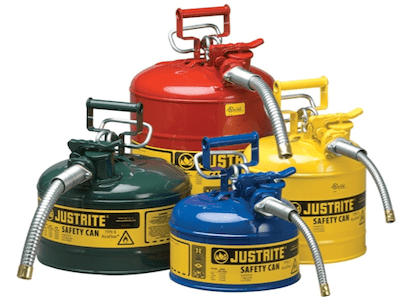 Gas cans are traditionally colored to help distinguish different types of fuel. Red cans are used for gasoline, yellow for diesel, blue for kerosene, and green for oil. Jerry cans used for fuel also come in olive drab, sand beige and matte black.
Important Safety Tips for Storing Fuel
Stockpiling liquid fuel can be dangerous if not done properly. The amount of gasoline you can legally store varies by location, so be sure to check local and state laws. Check your home insurance because storing gasoline can also void fire insurance.
The most important thing you can do is store fuel in approved containers, ideally, in a separate, detached, well-ventilated structure away from living areas. Here are some more precautions for storing fuel:
Store gasoline away from living areas in a garage or shed.
Keep out of direct sunlight.
Store away from heat sources, flames, or ignition sources.
Avoid placing containers on concrete–put a piece of plywood between the concrete and the containers.
Store full containers to minimize volatile fume build up.
Use and rotate within three to six months.
Use a fuel stabilizer to increase storage life from one to three years.
Limit access to children.
Increase the Storage Life of Gasoline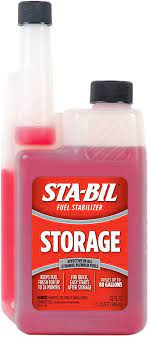 Gasoline degrades over time. Rotate gasoline every three to six months. Make it part of your seasonal routine. Use a fuel stabilizer to limit oxidation and prevent microbial growth. Add it to any gasoline you plan to store longer than three months—from one to three years. It is best to add stabilizer as soon as you purchase any gasoline or diesel that you intend to store.
LEARN MORE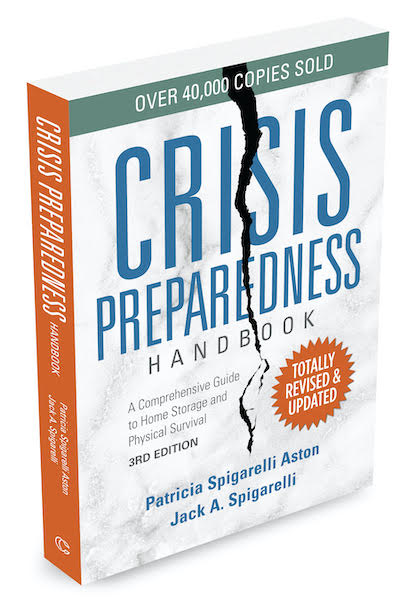 You will learn more about storing fuel for an emergency in my book, Crisis Preparedness Handbook. You can find the book on my website CrisisPreparedness.com. Or, get it on Amazon, either in the hard copy or in the Kindle version.